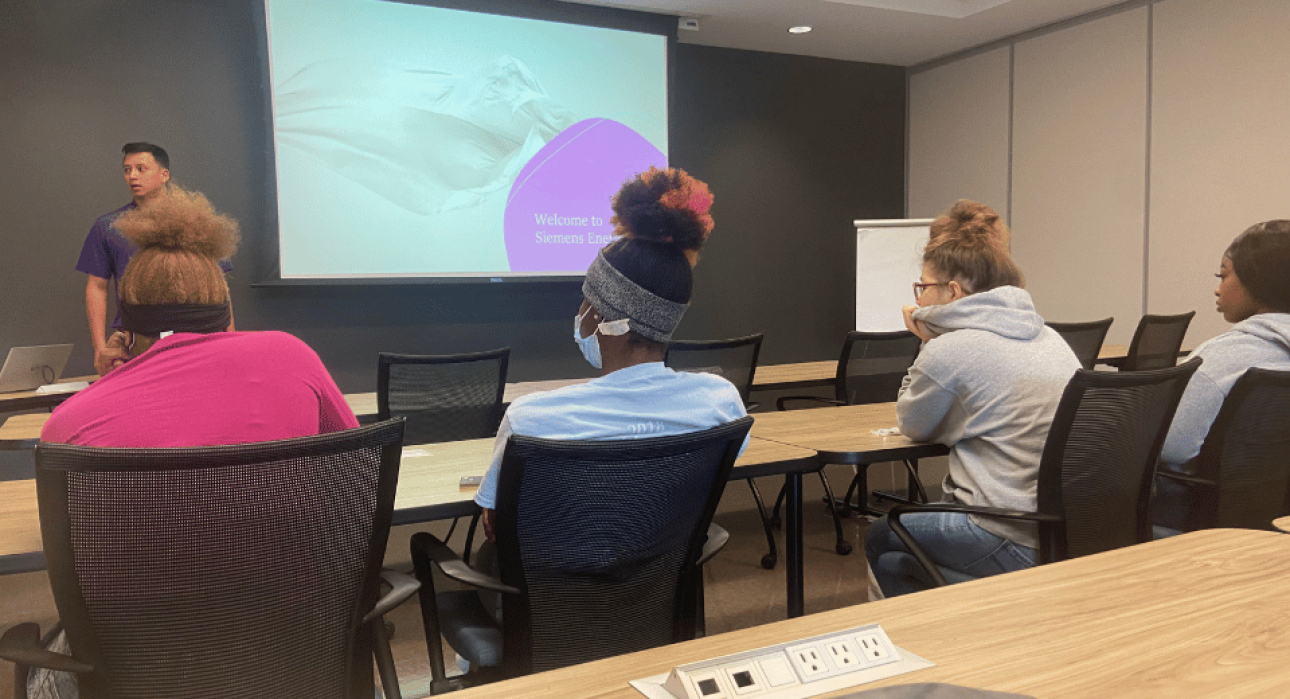 This summer, youth living at the Children's Attention Home had 6 amazing Lunch & Learn experiences!

We kicked off our summer with a tour at Siemens. What a great experience we had at our first tour of the CAH summer Lunch and Learn program, hosted by Siemens Energy. We started the tour with an ice breaker, introductions, and a brief slide show of the history of Siemens.  We were then off to our tour all wearing our safety glasses. We really enjoyed our day at Siemens. They were very welcoming and provided a lot of information and knowledge of future opportunities.

Our group went to International Paper. At the security gate we were met with smiles from George. He shared with us his passion for his job. Dipti Scardino arranged for us to meet many of their team members. They walked us through how they make their products from start to finish. We were able to construct our own treat boxes made from material they use. We were treated to a great lunch and a round of questions and answers from many of the team members. We will be able to spot some of their products when we go shopping. On our way out we brought Mr. George the security guard a lunch. He smiled even brighter!!! Thanks Mr. George.

Zachry Engineering is a new Lunch and Learn partner. We met with 3 of their team members and learned what each of them do and what Zachry Engineering is all about. After lunch we designed and built our own bridges and had a little friendly competition. Each of our bridges could hold over 15 pounds of weight. It was such a fun and unique experience. Our residents were able to bring their bridge building materials back to the home so they could work on more designs.

Four residents were able to go to Marshall Air in Charlotte. We were given our own VIP tour by the company president Mr. Ron. He delivered a very inspirational speech on how he began at the company sweeping floors and now he is president. During the tour he pointed our some of the cool technology like a Robot that is helping to make their products. We enjoyed meeting team members along the way who were in different departments. We were treated to an awesome lunch and treats.

It was so nice to be back at Comporium. Kristen arranged for us to talk with a representative from human resources who gave our kids some wonderful advice applying and interviewing for jobs. Our group was also treated to some hands-on demonstration and were able to get in on the action by connecting cable from the outside of a home to the TV. We also learned all about fiber and how to connect it. The new technology was very interesting. We also met with representatives from the Information Technology department and marketing. It was all great to hear about how many careers they have at Comporium. We had a mega pizza buffet and were joined by the staff for lunch.

Last but certainly not least, we toured a new Lunch and Learn Partner Continental Tire. We learned about everything Tires. Now we all know what those letters are on a tire wall. They showed how they diagnose a tire that comes in through their warranty center. Our group also received some great life skills information about tire safety. We were able to meet with several of their team members who explained their roles and what they loved about their jobs. Many had been there over 20 years. We were able to see several videos on Continental Tire and the international impact it has. We had a wonderful lunch and treats.

A shout out goes to Daimler. Sadly, our stars did not align to tour their amazing facilities. We will reschedule in 2023!!

Lunch and Learns are one of the most important things we are able to do during the summer. The residents learn about our local companies in our community and the many opportunities there are within each of them. Thank you again for all the hospitality. We all look forward to next Summer 2023 so we can do it all over again!!